Donald Street Reconstruction
As part of City of Thunder Bay Contract 5, 2019 – Asphalt Rehabilitation II, Donald Street will be under construction beginning June 10, 2019 with construction continuing into October of 2019. The area impacted by construction extends from Vickers Street, easterly to May Street. Throughout construction, pedestrian, and vehicular traffic, as well as transit routes, will be impacted.
During constriction, transit routes, stops and the transit hub at City Hall on Donald Street will be affected. Details pertaining to transit impacts, will be made available at www.thunderbay.ca/transit and notices to the public will be posted at transit stops. Throughout construction, access to the Victoriaville Parkade will be straight north-south through Syndicate Avenue only. Traffic to the parkade will be permitted to travel in a north-south orientation only. Traffic will not be permitted to travel in an easterly/westerly direction on Donald Street between Vickers Street and Brodie Street. As part of the works, the traffic lights at the intersection of Donald Street and Syndicate Avenue will be impacted. Traffic lights will be replaced with stop signs for motorists proceeding through this intersection. Motorists and pedestrians are asked to obey construction signage, and are reminded to please use caution when navigating the area.
Businesses in the area will remain open during the construction, while pedestrian access through the work zone will not be permitted. Throughout construction, pedestrians are asked to utilize routes outside of the work zone to accommodate reconstruction of the sidewalks. Pedestrians normally accessing Victoriaville via Syndicate Avenue, are asked to use alternative access to the building. Those accessing Centennial Square, will be required to do so via Victoria Avenue only. Parking meters throughout the construction limits (Donald Street from May Street to Vickers Street) will be disabled for the duration of construction, and parking within these limits is not permitted. Vehicles parked within the construction zone are liable to be removed at the Owner's expense.
The work is anticipated to be completed in multiple stages, with specifics as further detailed below.
---
STAGE ONE – VICKERS STREET TO BRODIE STREET
- Stage One works will commence Monday June 10, 2019 and traffic is anticipated to remain in this configuration until Monday June 24, 2019
- Donald Street to be closed between Vickers Street and Brodie Street to accommodate construction works within these areas
- Work will be ongoing in the intersection of Donald Street and Syndicate throughout this time as well; however, local traffic only will remain able to proceed through this intersection in a straight north to south direction only.
Stage One – Overview Plan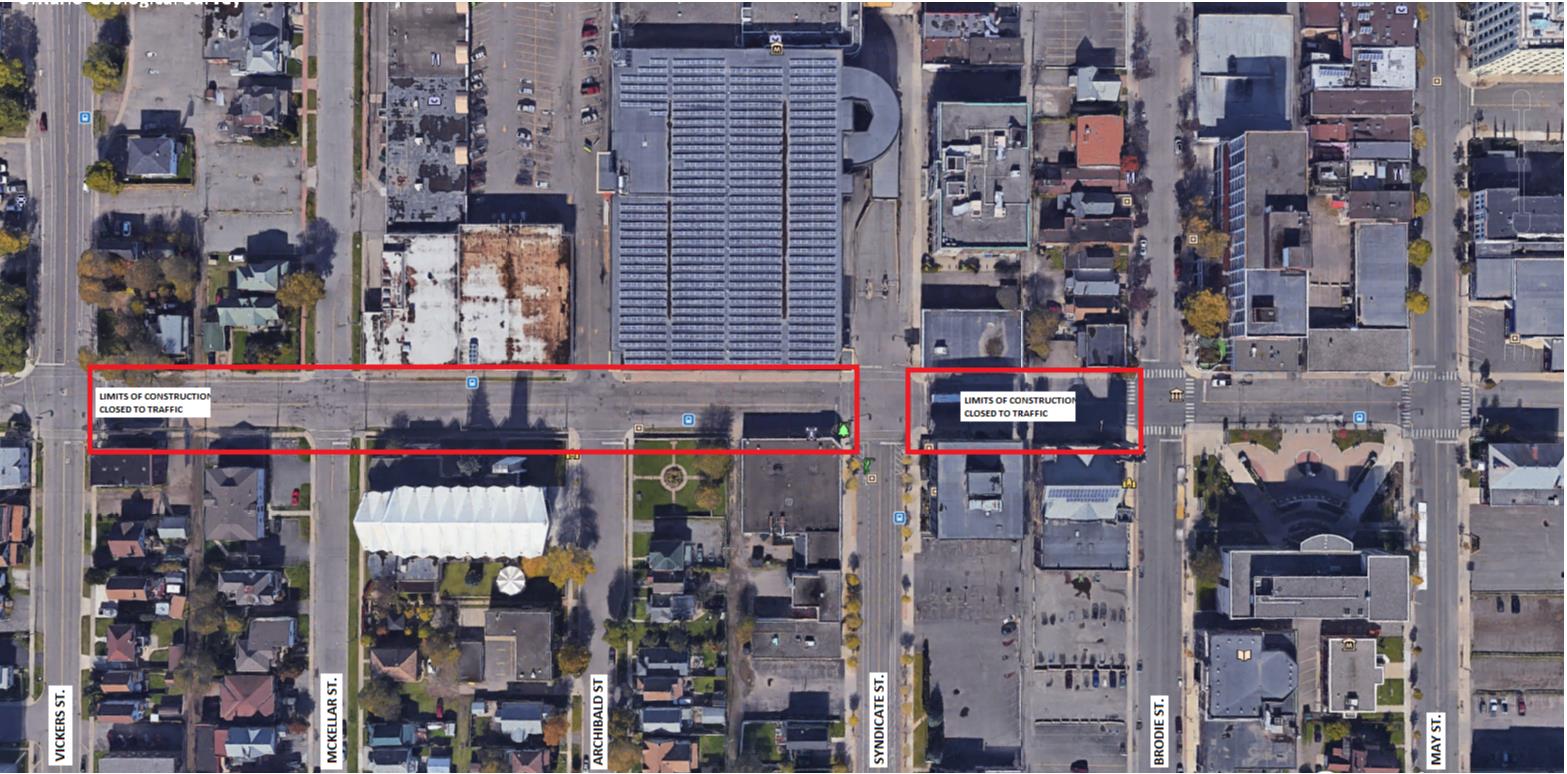 Stage One – Overview Plan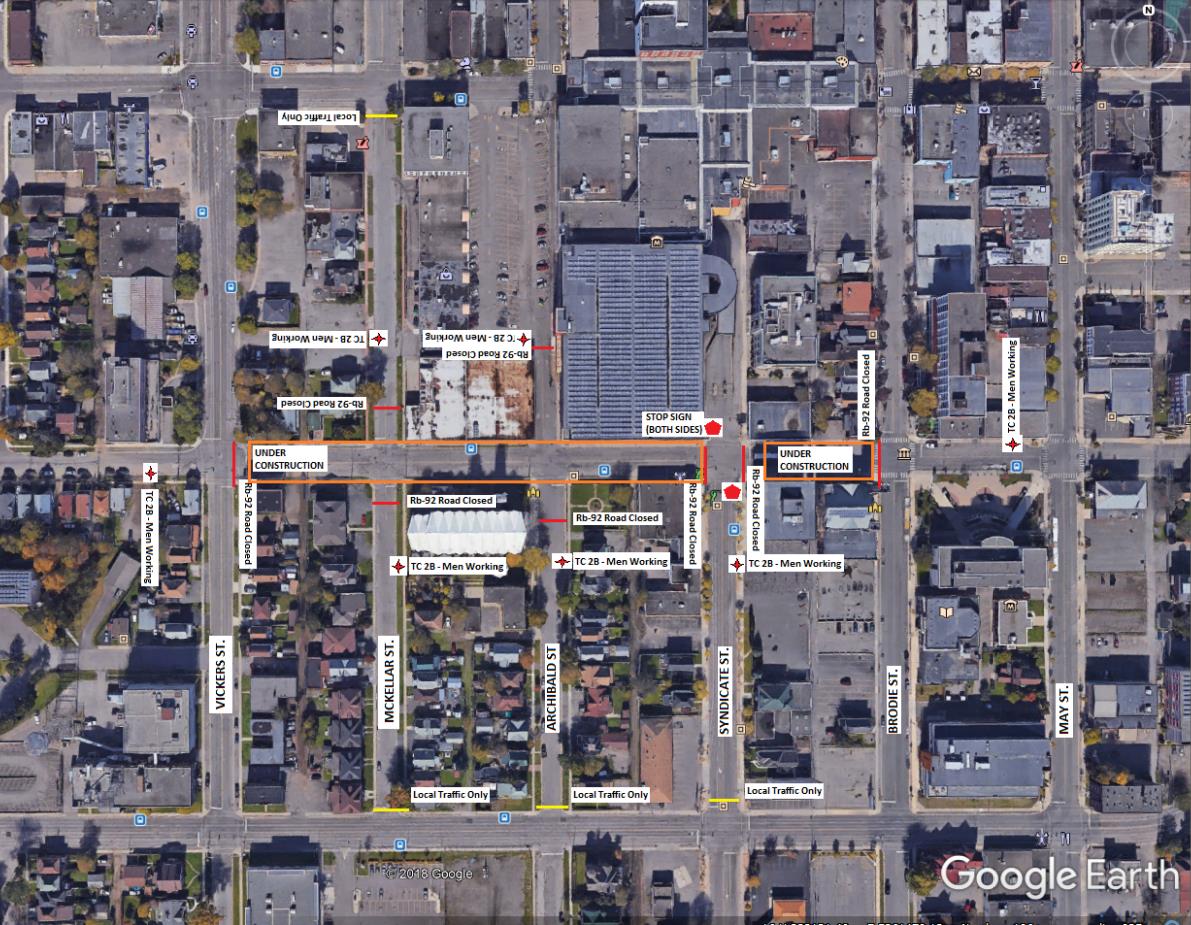 ---
STAGE TWO – VICKERS STREET TO MAY STREET
Stage Two works will commence Monday June 24, 2019 and it is anticipated that traffic will remain in this configuration for a minimum of three weeks
Donald Street will be closed between Vickers Street and May Street to accommodate construction works within these areas
Please review www.thunderbay.ca/transit for details pertaining to transit hub relocation
Stage Two – Overview Plan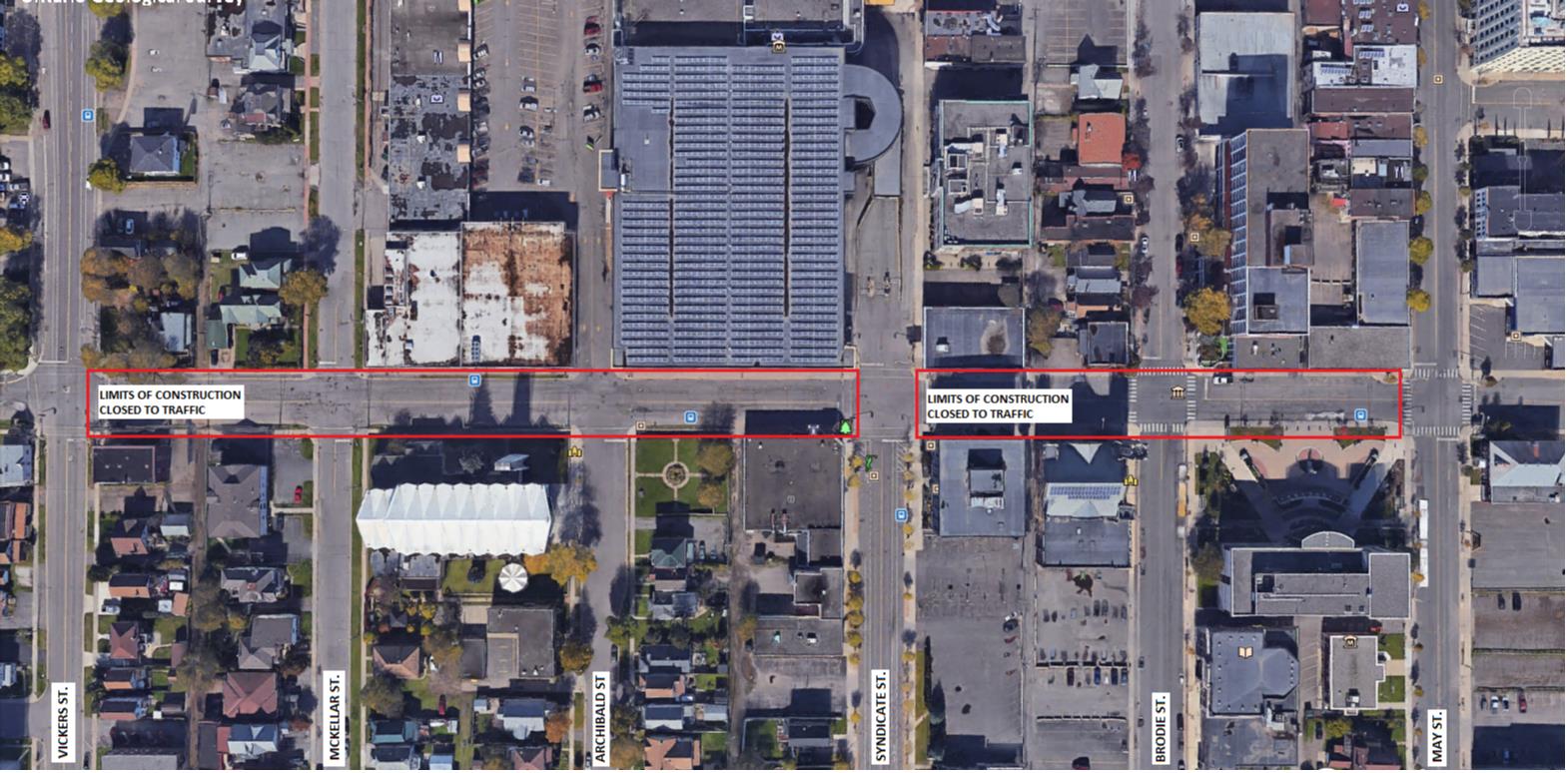 Stage Two – Traffic Plan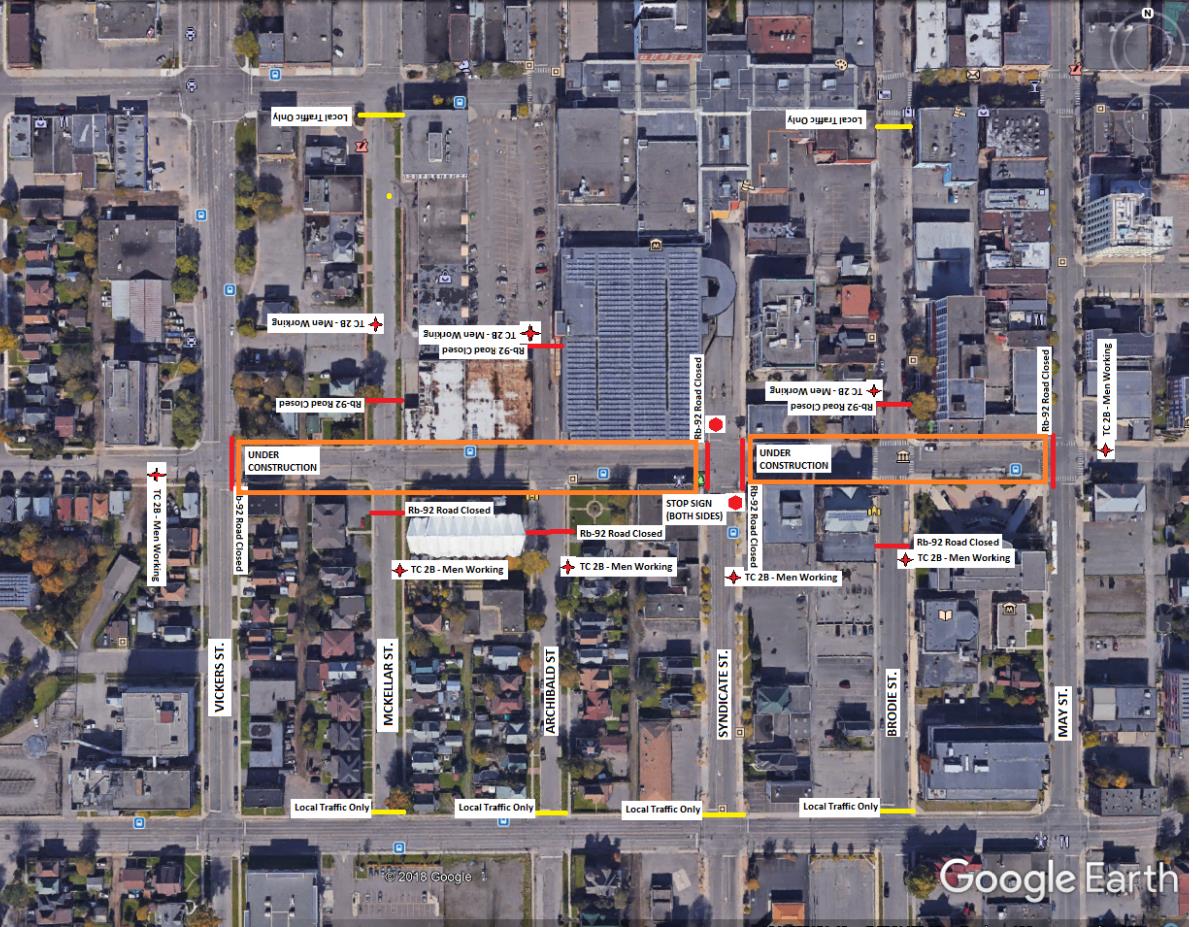 ---
STAGE THREE – VICKERS STREET TO BRODIE STREET
Following completion of Stage Two, traffic will return to the Stage One configuration as detailed above
Details pertaining to specific dates will be provided as the work progresses
During this Stage of construction, Donald Street to be closed between Vickers Street and Brodie Street to accommodate construction works within these areas
Intermittent closures of the Vickers Street intersection and the Brodie Street intersection will be required throughout this period to accommodate construction works
---
Please sign up here to receive notification of amendments to this page: